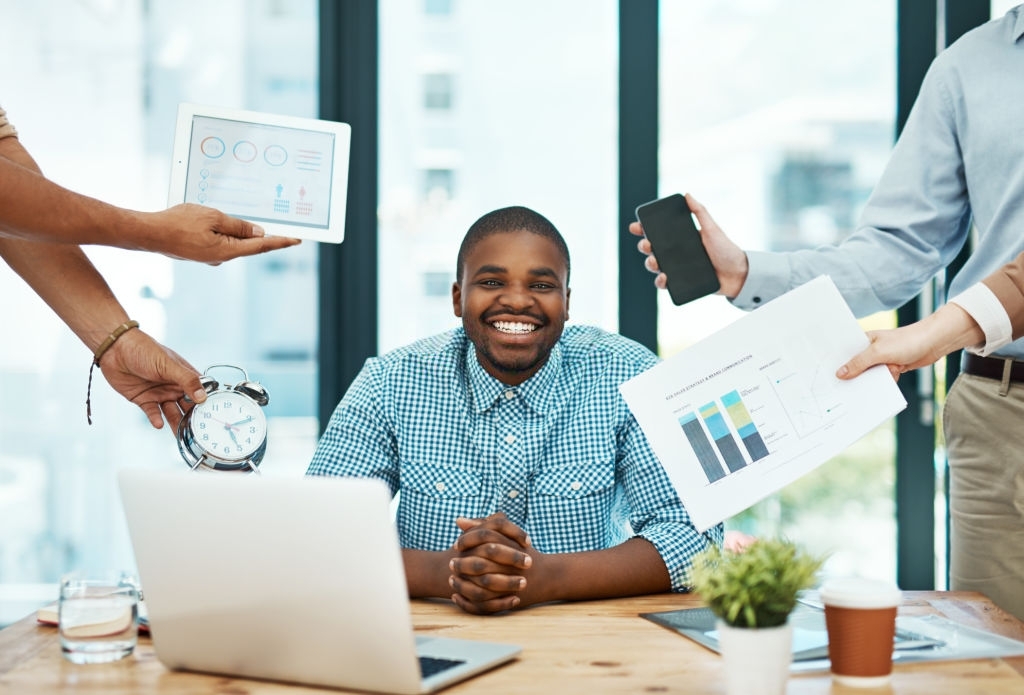 15 best time management programs for all occasions
Table of Contents
Best free time management apps
Best Time Management Apps for IOS
Best Time Management Apps for Android
Nowadays people constantly try to spend every moment as productively as possible. And that is just the case where time planning utilities are irreplaceable.
Choosing the greatest programs for timespan processing can result in a boost of productivity in performing job tasks and completing projects, and even in everyday life. Some managerial apps help to avoid being distracted from work, or help by lifting your state of mind and improving attentiveness. Other products may also help with staying in touch with co-workers, friends and relatives.
Finding the right personal time management app may seem complicated at first, but it depends only on one's requirements. Some search for a worktime managerial solution to stay informed about everything and thus save plenty of time. Others just need help in keeping their work schedule in order.
The next 15 time management apps you should start applying today are serving sole purpose – to enhance your performance both at job and everyday life.
Best free time management apps
Attrack
AtTrack is an application for time management while working on job assignments and projects. This utility can be used in small or medium companies by employers, freelancers and managers for different scheduling and office related tasks, like keeping record of worked hours, tracking what programs were used at the computer, and simplifying the process of work activity report writing. It easily boosts the performance of personnel since it allows them to stay informed about job routine, and improves the precision of the assigned projects' status assessment. AtTrack is also a monitoring product allowing employers to effectively control remote and office workers without significant intrusion into personal and working space.
The reasons to try and use it:
Modular app architecture that enables its users to choose only the needed functions
User friendly and simplistic interface
Relevant functionality that may satisfy demands of the most users
Active support from developers who appreciate suggestions and feedback
Compatibility with many other popular applications
AtTrack offers a trial version for feature testing. Afterwards it is available for $3.00 monthly. The tool is currently compatible with Windows and macOS.
Trello
In terms of ease usability and efficient project managing, Trello is among the first. Its main function is the development of cards for assignments and tasks queued for completion. Generally speaking, it is a digital pin-board for project organizing. This time management utility allows its users to quickly look through pinned tasks with working team members and sort them into custom categories.
Why use Trello:
Intuitive and highly customizable UI that makes management experience more satisfying
Trello is a long-standing service that has been employed by millions of users for 10 years by now
Vast amount of features that will increase productivity of employees
Automation related features that will help you to spend less time on common actions
Useful software compatibilities with many cloud storage and management services
This program is ready for download from the official webpage for free. It is available as a web version, desktop client for Windows and macOS, and mobile phone version on iOS and Android.
Asana
A task managerial app for both collective and personal work planning. Asana is known to be among the most often utilized worktime processing tools. Its main functions are expressed as a form of tasking scheme that can be connected into boards for projects and sorted by different categories. Another important feature is that of setting deadline terms and tracking the overall completion status of the assignment.
Reasons to try Asana:
Understandable and flexible user interface, allowing for efficient worktime planning
Majority of great functions including job state tracking in real-time
Automation features for timesaving on manual routine
Asana is a long-standing service used by many companies across the world
Can be used for remote workforce coordination
The basic version of application is distributed for free from the official website, and as a premium version for monthly payment of $9.99. Available as a web browser add-on based on Chrome, and as a mobile app on iOS/Android.
Evernote
The next application is a must for those who prefer taking notes about the assigned tasks. In fact, taking notes is known to result in improved productivity and efficient timesaving. Evernote can be used as a private table-book, to-do list, work organizer, and so on. The dedicated browser extension enables its owners to save important websites for later use. Also this utility allows you to share notes with literally anyone, even if they don't use it too.
Why pick Evernote:
Cloud based cross-platform access to your saved notebooks and to-do lists
Variety of content capturing functions that may be used for taking notes
Built-in access to search engine for quick merging between notepad and search results
Convenient cloud storage for all the data added to the notes or lists
Integrating with many popular programs
Evernote is distributed as a free version, or premium subscription for a price of $6.99/month. The service is accessible via web browser, smartphone application, and desktop client.
Timecamp
A powerful piece of software for time tracking that assists in maintaining project completion performance and productivity. Timecamp provides a tree-like structure for tasks that helps organize spent working timespan for each customer. Application outputs various reports that help superiors to assess overall team performance.
Reasons to try Timecamp:
Unique and user-friendly interface design that allows for easy planning
Timespan management features with built-in payroll calculation system
Many other functions that might help with workflow optimization
Easily accessible information about projects and assignments
Assistance in job report creation
Timecamp has trial and personal use versions. Companies may provide their working teams with three price plans:
Basic - $5.25 monthly
PRO - $7.50 monthly
Customizable Enterprise version with varying pricing
The utility is usable via browser plug-in or web version, app for smartphones, and a desktop computer executable.
Best Time Management Apps for IOS
Todoist
This task manager program's fundamental and the most notable feature is to develop custom checklists that can be utilized for domestic usage, like forming a shopping list, or keeping your domestic chores in order. It may even be applied at work, with the purpose of arrangement of your subordinates' schedule, and thus, productivity improvement. Other features include setting additional assignments, prioritizing of projects, creating notes with media elements, and pinning tasks to calendar for beforehand planning.
Why choose it:
Compatibility with many other apps for task scheduling
Premade list templates that may save hours on making a fresh list
Motivational functions represented as special points that benefit the overall performance
Convenient design allows for neat adjustment for projects and chores
Todoist is available for free and can be upgraded to Premium version for $3 per month.
Workflow
Workflow is a planning program that enables its users to build custom task sequences. The main function of this program is to adjust the best app functions throughout the screen. It might be easily compared to development of your very own custom programs for everyday employment. The most common example of what can be done with this application is setting-up a special button that will start a call on the assigned phone number whenever you tap it. The objective of Workflow is to enable you to save a plenty of time on performing tedious tasks that involve multiple applications.
Best reasons to download this app:
Simplistic and highly customizable drag & drop interface
Ability to make quick shortcuts that will save a lot of time on operating other apps
This tool allows an access to multiple applications with only one tap
Compatibility with numerous apps benefits creative approach at shortcut creation
Workflow is absolutely free of charge for all iOS mobile users.
MindNode
This program is a customizable graphical interface for thought mapping that is also very easy to use. It lets you keep record of randomly occurring thoughts, and connect them together for further processing and idea generation. Simply put, MindNode is a kind of digital diary or notebook that gives you an opportunity to record your thoughts on a special canvas and arrange them into a schematic map. This app was developed with only one objective in mind - assistance in creating ideas by saving and connecting thoughts. MindNode can be used for a variety of things limited only by one's imagination.
Why consider giving it a shot:
User interface can be freely styled and arranged according to your preferences
The program also assists with timing management due to the features similar to checklists
MindNode may come in handy even for students, as it allows for easy brainstorming and learning
Special focusing feature that highlights the needed branch of the map and thus helps avoid getting distracted or overwhelmed
MindNode is available in two versions: basic free account and extended MindNode Plus for $2.49 monthly.
Habitminder
An unusual habit building application with a huge variety of uses both in everyday life and at work. Habitminder provides a vast selection of habit motivation and tracking tools. Its main function is to help you obtain necessary habits like keeping a healthy diet and doing physical exercises on a daily basis. Clients can develop their own habits, or just try pre-made basic habits. The app also provides a habit forming calendar and detailed statistics that help stay informed about your progress in habit building. Habitminder is good at inspiring users to achieve their goals and accomplish work related tasks.
Reasons to choose it:
Simple and easily accessible interface for checking individual habit building status
Full customization of chosen habits allowing people to adjust them to their preferences
This program helps and motivates to build habits as efficiently as possible
Apple Watch compatibility enables convenient recording of habit results
Habitminder is available from the iOS App Store for free.
Forest
A truly unique worktime management app that persuades its users to avoid using their phones. The utility operates in a manner similar to a game – first of all, a digital tree is planted, then it grows while the app is on. When the active window is changed, the tree withers away and has to be grown from the beginning. Whenever a tree fully grows, you earn special currency. The main function of this app is to help users focus their attention on more important tasks, rather than surfing the internet or chatting with friends. Also, the developers of Forest are attempting to teach people about how important it is to protect the environment.
Why try Forest:
The app's interface is very minimalistic and boasts eye-pleasing colour scheme
Aside from being a program that makes people waste less time, this is also a platform where users may support planting real trees by spending digital currency
This program is a good stimulation for focusing on work and increasing productivity
The app is also a perfect curative from phone addiction
Forest can be downloaded from the App Store absolutely free of charge.
Best Time Management Apps for Android
Timefree
The next application is intended to be used everywhere and by everyone, because it benefits both working teams and families. It is a timing managerial utility for calendar coordination and scheduling of appointed assemblies and important events. Built-in calendar can be opened to show the full month with all the ongoing events and holidays. The app includes country-specific holidays for many countries, and it is still in active development. The main point of TimeTree is the ability to manage one's schedule by sharing it with relatives or colleagues.
Why is it good:
Provided calendars are of the most basic design derived from their paper analogues
Calendars from this app can be shared with anyone to keep them informed about all upcoming events
This application also has messaging features that enables its owners to communicate and discuss whatever they desire
All the needed data about important dates and events may be imported from the device's dedicated calendar
TimeTree is available for free download from Google Play.
Pocket
Pocket is a convenient and easy to use content capture and app. It greatly improves productivity since it allows users to capture interesting content for later reading or watching, and avoid distraction from what truly matters. The most basic function of Pocket actually corresponds with its name – it saves whatever content you find interesting on any device, allowing for later access.
Why is it worth trying:
You can save content to check it later, during your leisure time
This app actually helps with disciplining yourself against distraction
Utilizing this program results in a drastic boost of productivity at work
Pocket can even be used as a kind of shopping or check list
This app has built-in content recommendation functions that may most users may find interesting
The application is ready for download via Google Play absolutely free of charge. It also includes an extended Premium version for $4.99 per month.
FocusMe
A powerful tool that improves personal work productivity by means of tracking the hours wasted on distracting web-pages, and the further blocking of those sites. Generally speaking, FocusMe is a website blocker that is intended to be used for time management purposes. This product is a perfect solution to internet addiction that consistently interferes with people's work and life. FocusMe may fit the requirements of everyone, starting with students who need to concentrate on studying and getting better grades at school or university, and employees who need to focus on their job in order to make their way in life.
Why use it:
It can save you from wasting days on unreasonably long distractions
Built-in scheduling and break reminding features
The product shows its best at fighting internet and device addiction, and procrastination
Employing this app allows for better control over leisure time, and improved inspiration to reach one's goals and dreams
FocusMe is available for free download from Google Play.
GoodSync
A file synchronization and backup software that is applicable across multiple systems in order to avoid losses of important data files. This product is a simple way to synchronize and maintain files on several devices, be it an Android phone, desktop PC, server, or even a flash drive. Taking into account nowadays' tendency for work files to need constant backups and storage on multiple devices, GoodSync is simply irreplaceable.
Why synchronize your files with GoodSync:
Simplistic and easily understandable user interface
Automation features with customizable modes
Cloud services support that expands availability of synchronized files
Data transferring system that enables quick backup and reduced storage space requirements
File encryption ensuring absolute security of processed data
Backups support multiple file versions
Goodsync is available for download from Google Play with an extended Personal subscription for $29.95 per year.
Tomato Timer
A simple timer software that enables its users to separate their worktime into time-limited parts. The application works according to the principle of "Pomodoro Technique" method. It is based upon breaking down total job timespan into 25-minute-long intervals. The technique is popular nowadays and its efficiency is often discussed among people. There are dozens of guides across the internet that explain this method to users or even provide their own versions.
But what makes Tomato Timer special:
Minimalistic and pleasant interface with relaxing colour scheme
Integrated notebook and to-do list for effective planning
A great curative against procrastinating resulting in better productivity
Built-in task manager allowing for assigning and ordering tasks to complete during the given timespan
Tomato Timer can be downloaded from Google Play. There are additional features that may be unlocked for a varying payment.
Final Thoughts
The market of managerial products is constantly expanding, thus creating the demand for different summaries that may show readers the best programs to use. The given article is a collection of the greatest time planning apps for home and workspace employment. All of the presented programs are widely known and used by millions of users across the world, and are absolutely safe and beneficial for everyone.
It is also important to mention that time management is a must not only for work, but for all other aspects of modern people's lives. And the aforementioned applications are created only to assist in this matter.